Free or $9 Version?
You can choose any individual Dot To Dot Puzzle and download it for free.
For instance, our free Hungry Cat Dot To Dot Puzzle is a PDF file (which you can view and print with a PDF reader). Just download it, print it out, sharpen your pencil, and connect the dots.
This is our Dot To Dot Puzzle Collection: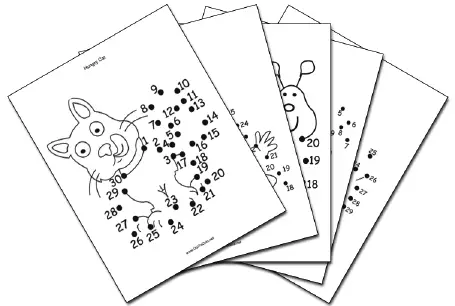 The $9 Dot To Dot Collection includes every dot to dot puzzle from this site—that's 505 different dot to dot puzzles and activities. It's also a PDF file, so after you download it, all you need is a PDF reader to open it and print one puzzle or print them all.
Because this collection is so large, we recommend that you use a broadband connection (Cable or DSL) to download it.
You can pay using your PayPal account or credit card. You'll be able to download the Dot To Dot Puzzle Collection within moments.